Seg On Media
Focusing on all aspects of media, this blog features comments and analysis on media. While mostly focusing on electronic interactive entertainment, the subject matter consists of how different media effect society in what ever way Seg feels fit to talk about.
John "Seg" Seggerson - Resumé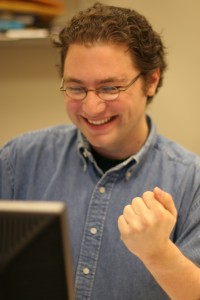 John "Seg" Seggerson is a New Media artist living in the San Francisco Bay Area, California USA. Originally from Dearborn, Michigan, Seg involved in various media groups for music, theatre, video broadcasting, and other aspects of creative media during High School. After graduating high school in 2000, Seg attended Western Michigan University for a double major in Cable/TV Broadcasting and Design/Technical Theater. After two years of Western Michigan, he transfered to Emerson College in Boston and entered the New Media Program.
At Emerson, Seg developed his BFA thesis project called Antidote, a live-action video game for Macintosh and Windows. During his three years at the college, his time was spent on Antidote and working with his professors to create a foundation of a game design and writing curriculum. This work lead to the first Bachelor of Fine Arts in New Media at Emerson College, awarded to him in May 2005.
After graduation, Seg continued his work at Emerson developing web-based applications for the department of Enrollment and Student Affairs. Seg and his team used game design principals for creating tools for admission and other departments at the college while also helping to further game development at the college.
Seg was hired at Telltale Games in April 2007 and moved to the San Francisco bay area. In over five years he worked on over 60 titles for Windows, Mac, Steam, Xbox 360, PS3, Wii, and iOS though Internet distribution and traditional retail channels.
Seg is also the co-founder of Ümloud!. An annual charity event for Child's Play Charity which provides video games, toys, and other financial support for Children's Hospitals around the world. The event occurs annually in December at DNA Lounge in San Francisco.
Seg on the Web
Disclaimers
The posts authored on Seg On Media are completely of Seg unless otherwise stated. Comments and other third party submissions are not and are the soul responsibility of the posters.
Privacy Policy
I really don't care about you that much to do anything extraordinary. There's the standard Google Analytics stats I get. Commenting on the site uses Discus will have their own privacy policy.